Wines
Zouzounis Wines produces Sangiovese, Petite Sirah and a Port, but we are best known for making Zinfandels from various Dry Creek Valley vineyards. Each wine exhibits the distinctive characteristics of the microclimate and soils where the grapes are grown.
Winemaking Philosophy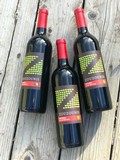 "Our first task was to find the finest producers of Zinfandel and Petite Sirah," says Winemaker Phyllis Zouzounis.

"We knew that Dry Creek Valley was the best location to look for Zinfandel grapes. But we had trouble finding a Petite Sirah vineyard that fit our needs. Then we discovered a grower in Alexander Valley who produced exceptional Zinfandel and was willing to plant some Petite Sirah just for us". Establishing solid relationships with veteran grape growers in Dry Creek and Alexander Valleys helped secure an annual premium-quality grape supply for Deux Amis. Those relationships establish the foundation of Deux Amis Wines.
Discounts (non-club)

6 bottles: 10%
12 bottles: 15%
36 bottles: 20%
Online discounts automatically calculated in shopping cart during "checkout". Become a member today and receive immediate greater discounts!
SHIPPING FEES ARE A PASS-THROUGH EXPENSE AND VARY DEPENDING ON QUANTITY AND DESTINATION. FEES ARE CALCULATED IN YOUR SHOPPING CART DURING CHECKOUT. MAKE A FULL CASE AND SAVE!!
*Some restrictions apply. Not all states allow wine shipping. Details will be available in your shopping cart.